Electrolyte Analyzer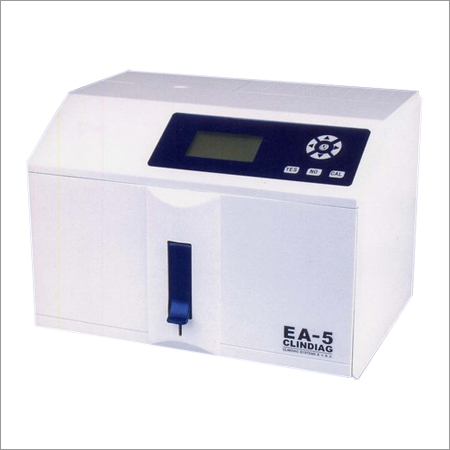 Electrolyte Analyzer
Product Code : CI-03
Brand Name : CLINDIAG INDIA
Our professional incumbency and knowledge have yielded us a niche for supplying top quality Electrolyte Analyzer. These analyzers are used widely in the hospitals for measuring the levels of sodium, ionized calcium, potassium and chloride in blood, serum and diluted urine. Our offered analyzers are available for the customers in different specifications, as per their requirements. These Electrolyte Analyzer are quality ensured with the aid of our in- house controllers.
Electrolyte Analyzer
Appreciated for providing wide array of Electrolyte Analyzer, we meet all quality and performance standards set by the industry. Used widely in medical industry, these Electrolyte Analyzer are easy to operate and easy to carry. Used for measurement of Sodium, potassium, Ionized calcium and chloride in whole blood, plasma, serum and diluted urine. This instrument has uncomplicated software and shows accurate and precise reading without being influenced with external factors.
User friendly software facilitates the easy operation


Automatic priming feature is helpful as it minimizes the maintenance problems

Automatic probe cleaner effectively reduces carry-over

To make the device ready for working at any given time an automatic standby mode is given.

Automatic calibration feature is also give.


Long functional life and stable electrodes
Parameter: EA-2 : K+ Na+ ,EA-3 : K+ Na+ Cl- ,EA-5 : K+ Na+ Cl- Ca2+ PH

Assay Method: Ion selective electrode

Throughput: 60 samples/ hr

Data Storage: More than 2000 samples and Q.C. data

Sample Type: Whole blood, serum, plasma or urine

Sample Volume: 120 ul

Display: 128 mm*64mm back-illuminated LCD

Printer: Built-in thermal printer, 58 mm width paper

Output: RS-232

Environment requirements: Temperature:18-35degree.centigrade, humidity:=85%

Power Supply: AC 110V 60HZ, 50W / 220V 50HZ

Dimension: 30cm*25cm*24cm

Weight: 7.0kg